Buying a restaurant franchise

First contact
Introductory session followed by a first interview
Financial verification and credit and background checks
Meeting with other members of our team
Disclosure process
Post-disclosure meeting
2-day workshop
Executive approval 
Franchise agreement signing
Building the restaurant
Our real estate team works with you and stands by you at every step to provide assistance in:
Finding a site
Negotiating the offer to lease
Designing the restaurant
Coordinating bids and permits
Overseeing the construction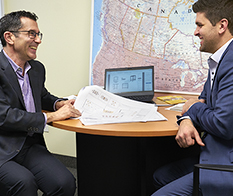 Training
More than 100 videos, from fruit preparation to setting, are available online for you and your employees' training. Our Operations team also provides on-site training to assist you and your staff for a few weeks prior to and after the restaurant's opening
Research and development 
Our in-house chefs and food specialists work to develop recipes that please your guests' taste buds and are time- and cost-effective in your kitchen. The R&D team has taste, efficacy and profitability at heart.
Operations and purchasing
The operations team accompanies you throughout the franchising process; from customer, supplier and service account opening to food, dishware and cutlery procurement. The team can also guide you through the hiring process and provide you with the administrative tools you need to run your restaurant efficiently.
Marketing
Our marketing team creates strong and original national ad campaigns. From radio spots to out of home advertising, including billboards,  and social media, each new promotion is adapted to the format to effectively intercept our target audience. Plus, since the local community is at the heart of our business success, you'll receive help from your marketing advisor to choose and organize your local activities.
Our distribution centre, Casseroles Cora, is located at the head office and supplies all our franchise locations across Canada. Its specialized warehouse, equipped with refrigerated and freezer facilities, allows to receive merchandises, to perform a quality control overview and then to ship the goods to our restaurants. Whether it is frozen, dry or fresh foods, but also dishes, utensils, everyday kitchen tools or small appliances, branded products or promotional item prepared by the marketing team, almost everything transits by Casseroles Cora. Franchisees benefit from the Cora Group's purchasing power and a single convenient source to get the vast majority of their products, thanks to this private distribution centre.
Technology
Benefit from a customized system that will help you operate your business and keep track of key metrics, schedules, etc.